THE INTELLIGENT CABLE
The component finger print
Pry-ID is the fingerprint for your cables and accessories. It does not need a power supply and it lasts for the whole lifetime of the cable, following it in even the harshest environments. The embedded RFID chip (UHF Gen 2), gives access to a cloud-based software and a powerful set of features.
SMART MARKING & IDENTIFICATION
Have cable marking that doesn't fade, ensuring quick and certain cable identification for safe working.
UNIQUE IDENTIFICATION FOR ALL COMPONENTS
Assign a unique ID to all cables using the widely recognized GS1 system.
SAFE AND QUICK APPROACH
Find and identify the correct cable quickly without having to worry about cutting the wrong cable.
COMPONENT INFORMATION
Get all the relevant data about the component at a glance, from the component.
INVENTORY & MATERIALS
Keep track of all the materials that were actually used and access project information through an intuitive platform.
INVENTORY MANAGEMENT
Use the RFID tags to automate your inventory processes and save time.
MATERIAL USAGE
Keep track of the current inventory and the actual usage of cables and components.
VERIFICATION AND TRACKING
Automatically generate records of installation, inspection and maintenance history for each component, and verify the service partner who completed the works.
UNIVERSALLY ACCESSIBLE THROUGH SECURE LOGIN
Upload the data onto your own platform and avoid redundant solutions and give access permission only to those who need it.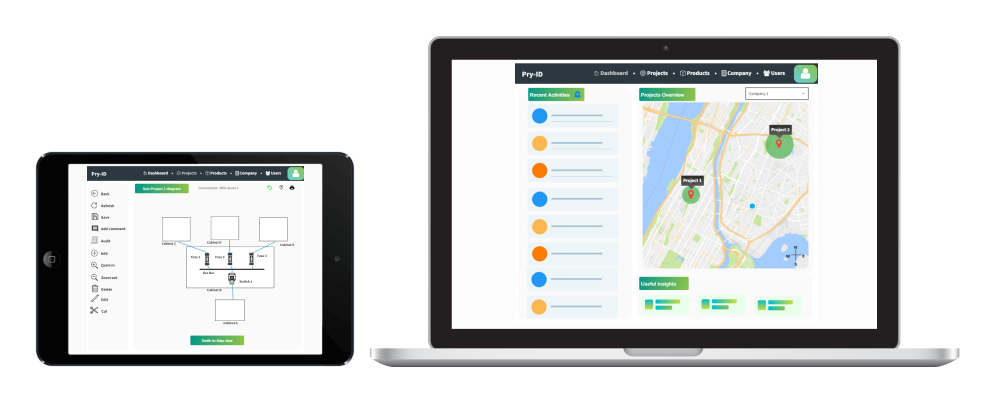 MONITORING & LOCATING
Have a schematic created live and documentation based on actual installation.
INSTALLATION BLUEPRINTS & GEOGRAPHICAL MAPPING
Automatically record network topology and the exact position of the cables to generate.
WORKFLOW MONITORING
Clear monitoring of the installed cable, work flow analysis and control over left overs.
LOCATE COMPONENTS
Select components on the schematic and use the scanner to search and locate particular components in the field.